1.
my mom and I got into an argument one time and then we started getting really emotional and she said "Obama means family" and I swear I never cried so hard in my life sillycarlos
WAIT IT'S SUPPOSED TO SAY OHANA NOT OBAMA THE PRESIDENT ISN'T PULLING MY FAMILY TOGETHER sillycarlos
2. I was deleting some of my old Instagram pictures and I came across this kids comments on one of my pictures @AlexErnst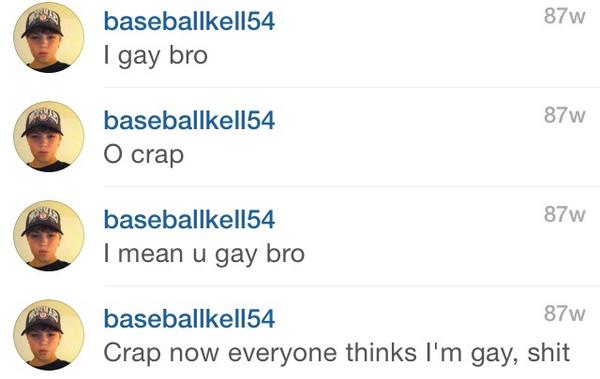 3.
straight up thought my burger had a sticker that said "noino on" and asked an employee what it meant pic.twitter.com/BkA7AvTzK9

— jos bravi (@joshRbravo) August 20, 2016
4. I nearly slipped in the shower and I tried to hold onto the water. @NegroMonroe
5. One time my cousin got drunk and started going on about how beautiful and amazing Northern Ireland is and at first I just thought he was being proud of his country but then he goes – "I really wanna live there some day ya know?" and I had to look him straight in the eyes and go "Mate – We are in Northern Ireland, We live in Northern Ireland, We are Northern Irish"
He thought that we were fucking Welsh  fountain-of-nerdiness
7. TODAY AT SCHOOL IT WAS VERY QUIET AND SUDDENLY THIS GUY'S SIRI SPEAKS OUT OF NOWHERE AND SAYS "EXCUSE ME SARGENT HUGECOCK MY INTERNET IS NOT WORKING" sealfie
8.
if you spell skeletons backwards it still spells skeletons co8alt-thief
Man I can't wait for Halloween to see some snoteleks thatonelesbiangirl
Spooky scary snoteleks fefbutts
psa blinkpen
9. Stupid. Elekkus

10. That lasagna looks crisp… reddit

11. The person who took a second. imgur

12.
So this lady came in this morning and walked up to the front desk to greet us before gasping loudly and saying "I forgot my dog"
She forgot to bring her dog with her
To the vet sarahsquarah
13. am i doing this right thebootydiaries

14. 1324 FOLLOWERS IM LAUGHING SO HARD ITS IN ORDER gamblingemperor
1324 is not in order Matt emporbooty
ITS 2 AM AND IM NOT EVEN GOOD AT SCIENCE IN THE FIRST PLACE gamblingemperor
Science emporbooty
15. i went to canada with my dad once ashleys
Anonymous asked:
How far have you gone with a guy?